The Haunted Slough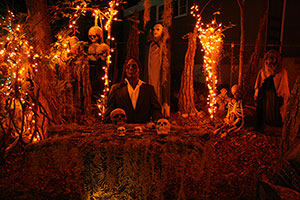 Joe and I bought our house on Shoaledge Ct. twelve years ago. My neighbor, Liz Shelby and I were so disappointed at only getting two Trick or Treaters that year....we knew we were going to have to get creative to attract some customers. Liz suggested we take the lower level of her front yard (somewhat gnarly and already spooky) and turn it into a Halloween trail. Hence the Haunted Slough was born.
Over the last ten years or so the Slough has grown into a huge project that requires considerable pain and effort to construct (i.e., mosquito bites, twisted ankles, pulled backs, numerous scratches from hackberry branches and general exhaustion). But the response from the public has been overwhelming. I have had so many gracious people express their thanks and amazement that it makes it all worth it.
Liz keeps the upper section of her yard fairly low key for the really little guys if they find the graveyard too spooky. There is apple bobbing, fluorescent sidewalk chalk art, punch and of course candy.
The Haunted Slough is open to anyone who enjoys Halloween and there is no admission fee. We do ask however, that all children under twelve are accompanied by a parent. One year some people chose to drop off a couple of carloads of kids for several hours. Talk about a scary Halloween!!!!!!!
Anyway, hope to see you there! October 31st. 7:00 pm to 10:30 pm.
For more information:
info@mariannesexton.com
Photos: